Undergraduate
If you haven't yet completed a degree, or don't meet the prerequisites for a postgraduate program, our four-year entry level degrees are:
Postgraduate
If you have completed a degree, our programs ending in 'Studies' will provide you with an accelerated pathway into your preferred career, or if you're a qualified physiotherapist, you can advance your career in a specialised field.
Shorter Form Credentials
Shorter Form Credentials are a fast and flexible way to upskill or extend your knowledge.
Research
Research Higher Degrees
Change lives and push the frontiers of health and rehabilitation sciences. As a Research Higher Degree (RHD) student, you will join a culture of research excellence where you will benefit from first-class facilities, an extensive network of support and advisors who provide exceptional mentorship and supervision.  
The RHD programs at UQ are the Master of Philosophy (MPhil) and Doctor of Philosophy (PhD). You will be supervised by researchers internationally renowned in fields such as disability and participation, aphasia, musculoskeletal health and injury, and occupational performance. Additionally, you have the opportunity to participate in our annual Postgraduate Research Conference where you will collaborate and learn from fellow RHD students and learn how their research is shaping the future. Read more about our HDR programs or learn more about our research.
Research Incubator Program
You can take part in our Research Incubator Program, designed to give you a taste of what it's like to be a research higher degree student at the School.
Professional Futures Peer Mentoring Program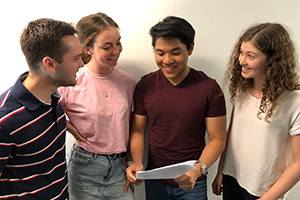 The Professional Futures Peer Mentoring Program supports health and sports science first year students in the School of Health and Rehabilitation Sciences (SHRS) through their transition, academic adjustment and preparation for future prac/placement and career.
Join Professional Futures as a mentee (for first year students), to connect with others and get support from older students as they help you transition to uni life and beyond, or join Professional Futures as a mentor, sharing your experiences and supporting fellow students who are just starting their studies in SHRS.
Learn more about Professional Futures here.
Resources
Find important documentation to assist in your studies.
Why choose to study with us
As one of Australia's leading health and rehabilitation educators, the School is recognised internationally for its teaching and research staff, alumni and quality of students. Study with us and you will be taught by world-leading experts such as Dr Allison Mandrusiak, one of two global recipients of the Universitas 21 Teaching Excellence Award, and Dr Anne Hill, one of five recipients of the UQ Excellence in Teaching Awards. A fundamental element to your studies is hands-on, practical experience through a series of clinical placements both within our on-site public clinics as well as external healthcare providers.
What our students say
"From playing sport in high school, I became interested in how a physiotherapist could help me to achieve better on the field. Although I wasn't sure exactly what I wanted to do when I graduated, I knew I wanted to learn about anatomy and physiology which lead me to physiotherapy at UQ. The most valuable experiences I have had are the off-campus visits and clinical immersions. My top tip for new students is to actively meet the challenges of the program head on and to use your friends for support."
Matt Holt, Bachelor of Physiotheraphy (Honours).
Talk to us
Online enquiries