Learn from the best lecturers and clinical educators to be awarded one of the most established and reputable physiotherapy degrees in Australia.
Why choose UQ
UQ can help broaden your career options with qualifications that are recognised worldwide, with award-winning lecturers, researchers and educators who are international leaders in their fields and are also dedicated to helping our physiotherapy students be the best they can. At UQ, our focus is preparing students for a dynamic career and our extensive clinical placement program provides you with the knowledge and skills to prepare you for a rewarding career in physiotherapy.
For example, UQ Physiotherapy staff have developed a 'Standardised Patients' (SP) program – a distinctive, intensive and innovative program using trained actors to portray patients in authentic simulated environments. The three core disciplines of physiotherapy (musculoskeletal, cardiorespiratory, and neurological) are united to create this cohesive program – a landmark innovation in Australia that is now regarded as a leader in simulated learning in physiotherapy.
What our graduates are doing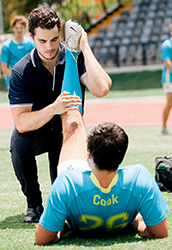 "From playing sport in high school, I became interested in how a physiotherapist could help me to achieve better on the field. Although I wasn't sure exactly what I wanted to do when I graduated, I knew I wanted to learn about anatomy and physiology which lead me to physiotherapy at UQ. The most valuable experiences I have had are the off-campus visits and clinical immersions. My top tip for new students is to actively meet the challenges of the program head on and to use your friends for support."
Matt Holt, Bachelor of Physiotheraphy (Honours).