Speech Pathology is the management of communication and/or swallowing difficulties as the result of problems with speech, language, voice, fluency (stuttering), hearing or literacy.
Speech Pathologists enjoy challenging and rewarding careers by working in a variety of settings, including hospitals, schools and community health centres, to deliver services such as individual therapy, group therapy, classroom support programs and home visits for clients and carers.
Why choose UQ
Study the internationally-acclaimed Speech Pathology degree at UQ and you will learn from award-winning teachers and clinical educators who are among the best in Australia. At UQ, our focus is preparing you for a dynamic career and our extensive practical placements program makes sure students are competent and job-ready.
What our graduates are doing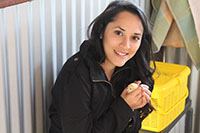 "UQ is known as a global leader for research and they're doing very exciting things in speech pathology. I chose UQ knowing that it's strong research foundation and placement opportunities would prepare me for life as a clinician. I've had the opportunity to interact with real speech clients under the supervision of a clinical educator and my professors are always more than happy to give me tips to use with my clients in clinic. Applying my theoretical classroom knowledge to clinical situations has given me invaluable skills that I will definitely use when I start practicing as a speech pathologist." 
Janjulee Ellis
(Canada), Speech Pathology graduate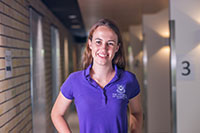 "I completed a number of placements as a part of my degree. I've had the opportunity to work with adults and children in hospitals, schools and the university clinic. I was also lucky enough to participate in an international placement in Vietnam. For a month I worked in a team of student physiotherapists, occupational therapists, speech pathologists and clinical educators to deliver services to children and their families in schools, orphanages and rural communities. It was a terrific opportunity to improve upon our clinical skills, learn new skills from other professions and to learn about health care in different cultures." 
Rachel Lucas
, Speech Pathology (Hons) graduate