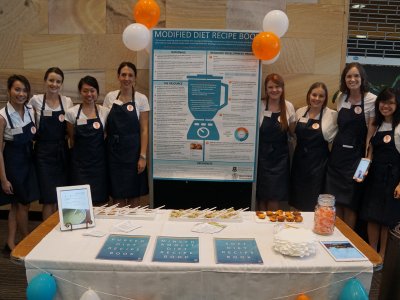 Final-year University of Queensland speech pathology students showcased innovative concepts to health industry professionals as part of their community education projects.
School of Health and Rehabilitation Scienceslecturers Dr Anne Hill and Ms Adriana Penman worked with the 15 groups to focus on possibilities for the future of healthcare and speech pathology services.
"The future of speech pathology services will be collaborative and interprofessional," said Dr Hill.
"Students in their final year were given an opportunity to workshop and present ideas that will positively impact outcomes for clients of speech pathology services."
"Each group was assigned a specific topic, so while one team developed a project about the role of speech pathology in mental health, another group presented a recipe book with foods suitable for patients with swallowing difficulties following head and neck cancer."
"I was impressed with the calibre of output and congratulate the students on their outstanding efforts."
The project also provided an opportunity for the students to work with health professionals throughout the semester, strengthening their networks in the industry.
Speech pathology student, Chloe Fox worked with her team members to develop and present the Modified Diet Recipe Book.
"It was rewarding to work with my team to create a recipe book of soft foods that can make a positive difference in the lives of those who have difficulty swallowing (a condition called dysphagia)," Chloe said.
"Throughout this project we were mentored by speech pathologists at the Princess Alexandra Hospital and were also given the opportunity to attend head and neck cancer support groups to gain a greater understanding of the issues surrounding dysphagia."
Industry relevant projects allow UQ students to become job-ready and enter the work force with an eye for innovation.
School of Health and Rehabilitation Sciences Head Professor Louise Hickson said: "It was wonderful to see the enthusiasm and effort put in by the student teams to create such useful resources for the broader community."
For more information about the speech pathology services UQ offers to the public click here.