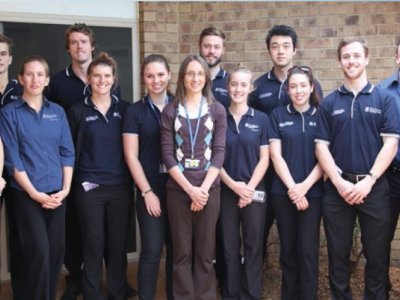 Article courtesy of Networking magazine, a publication of the Churches of Christ in Queensland.
Many of us have been to a physiotherapist to get help for a dodgy knee, a tiresome back or tennis elbow.
They work with getting us back to moving properly and without pain. That is why physiotherapy is important in aged care; to keep residents moving the best they can.
First and second year physiotherapy students from The University of Queensland were given an insight into the world of caring for older people when they visited our Brisbane aged care services as part of their first practical experience.
Almost 175 students visited our Brig-ODoon, Buckingham Gardens, Moonah Park and Clive Burdeu services as part of their Geriatric Physiotherapy course, led by Dr Anna Hatton.
"I wanted to give the students early exposure to the clinical environment. Rather than practicing on each other, they get to have interaction with real people early on," Dr Hatton said.
For the students, the experience highlights the challenges of treating aged care residents.
Communication is the primary challenge, with therapists needing to find information from other sources, including case notes, nurses and family members, rather than directly from the client as they usually would before commencing treatment.
Churches of Christ Care Physiotherapist Craig Wilson said the residents were glad to interact with the students as they completed assessments.
"They felt good and were happy to help. They felt wanted and like they were making a contribution," Mr Wilson said.
According to Craig, physiotherapy in aged care promotes the safe and optimum function of every resident.
"I encourage residents to walk the best they can while also helping them maintain their independence as much as possible," Mr Wilson said.
"This includes falls prevention, and the ability to get into bed, go to the toilet or get to the dining room by themselves. By doing simple interventions, we can make a huge difference to their quality of life."
As part of their physiotherapy, residents take part in group exercise programs and get involved with everyday activities including cleaning and baking.
"There are also benefits to their social and emotional wellbeing. I don't want our residents to come into aged care and feel they no longer have a purpose to live," Mr Wilson said.
For the visiting students, aged care physiotherapy may not be the 'glamorous' side of their industry, but by getting to experience what it is like it has given them an appreciation of the challenges and rewards of caring for older people.