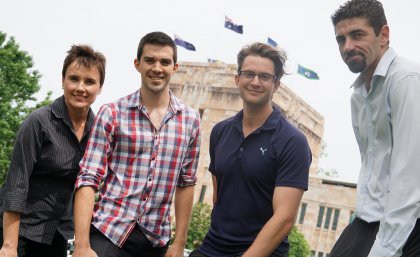 How does a meat processing company reduce the number of injuries in its workforce by 70 per cent in just three years?
Four University of Queensland School of Health and Rehabilitation Sciences students witnessed the answer first-hand when they undertook scholarships with Teys Australia and CIM Health.
Among the quartet was Canadian-born Master of Physiotherapy Studies student Antoine Desrosiers, who said Teys Australia had a heavy focus on physiotherapy.
"There was certainly an emphasis on being proactive and preventing injury," he said.
"We were working with mostly upper limb injuries – shoulders, necks, wrists, elbows etcetera  – and where you could identify something that was repetitive, there was an opportunity to change that.
"Depending on the role that person filled, it could be injuries from regularly slicing the meat, picking up objects with the upper body rotated or pulling at things with the non-dominant hand."
Teys' National Occupational Health and Safety General Manager Tim Edwards said the industry had worked hard to almost eliminate injuries from cuts and falls.
"Musculo-skeletal injuries have since been recognised as an area where improvements can be made," he said.
"Three years ago our health partners CIM approached us and we agreed we needed to get smarter.
"There's been a lot to learn and resistance to change can be strong in meat processing, but it's about achieving a stable, happy workforce.
"Data tells us that if you lose someone for 30 days due to injury, the chances of them coming back to work are very slim, so prevention is the key.
"Since we began engaging nationally with CIM in this area, we have reduced injuries by 70 per cent."
CIM Health Rehabilitation Consultant Marina Vitale helped create placements for UQ students, working with Faculty of Health and Behavioural Sciences  Advancement Manager Cass Conwell.
Trent Seth, Mitchell Shorten and Greta D'Arcy were other students selected with Mr Desrosiers.
Mr Desrosiers has since gained full-time employment from the opportunity and will be based initially at Teys' Beenleigh location, with the possibility of moving around Australia.
New scholarships with CIM and Teys are now being offered to UQ students for 2016.
For the scholarship program contact the Clinical Education Unit within the UQ School of Health and Rehabilitation Sciences on 07 3365 4516.
Other employers interested in this opportunity can contact Cass Conwell on c.conwell@uq.edu.au